AT-ELE New Release: AT-QCB2 Tuya Smart Life WiFi Metering Smart Breaker
A smart breaker, such as the AT-QCB2, is an intelligent electronic device that can be used to monitor and control key electrical parameters in power lines, such as current, voltage, and power. This device can detect overloads and short circuits, and it is able to provide a much more reliable power supply than traditional circuit breakers. The AT-QCB2 also features a smart chip, allowing it to be connected to the Tuya APP.
This enables the system to be monitored and controlled remotely, providing greater control over the electrical system. It can be used for renovating old cities, campuses, and historical buildings, and managing office energy efficiency. At the same time, the smart breaker enhances people's intelligent lives and production. It can be used in smart homes, factories, charging systems, street lights, and financial electricity management.
What are the Specific Functions of AT-QCB2 Smart Breakers?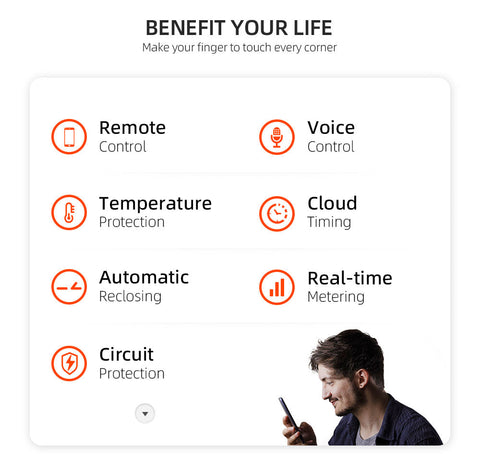 AT-ELE's AT-QCB2 miniature smart breaker is a new electricity product designed for key electrical factors in power lines. For example, the smart breaker can monitor voltage, current, power, temperature, leakage, and energy consumption in real time. It has functions such as remote control, early warning protection, short-circuit protection, power metering statistics, and fault location.
Smart circuit breakers can be used in indoor buildings, industry, commerce, civil buildings, and infrastructure for low-voltage terminal distribution networks. The smart breaker is rail-mounted and available in modules 1P, 2P, 3P, and 4P.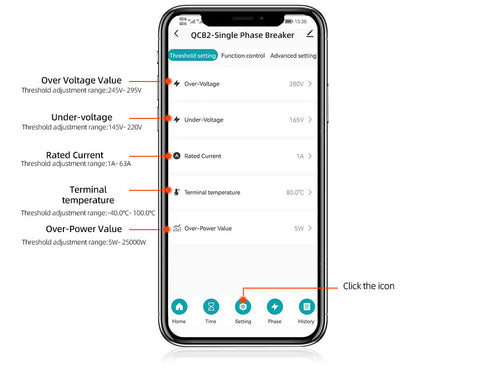 Metering function. Monitor in real-time and Report voltage, current, power, electricity, leakage, temperature, frequency and other electrical parameters.

Alarm function. Over-voltage alarm, under-voltage alarm, over-current alarm, overload alarm, leakage alarm and over-temperature alarm.

Protection function. Feature over-voltage protection, under-voltage protection, over-current protection, overload protection, short-circuit protection, leakage protection and over-temperature protection.

Control function. Support local handle open/close, local electric switch, remote control switch, timing control, reservation control and other control functions.

Parameter setting. Support setting of various protection parameters, control task parameters and reclosing parameters.
Smart Breakers can be Highly Integrated
Smart breakers are highly advanced pieces of electrical equipment that are able to link with a variety of circuit control and protection devices. By integrating these devices with smart breakers, circuit management can be improved, safety can be enhanced, and the overall electricity system can become smarter and more efficient. Smart breakers can be used with various electrical devices, such as multi-function meters, electrical fire meters, traditional electric meters, street light controllers, self-repeating overvoltage protectors, circuit breakers and lighting controllers, etc.
These devices allow the smart breaker to detect and respond to any irregularities in the electrical system, thus increasing safety and reliability. With the continued growth of the Internet of Things (IoT) and modern automation systems, the possibilities for smart breakers to become even more integrated with other devices and systems are only growing.
What are the
 

Appliactions

 

of AT-QCB2 Smart Breakers?
In reality, the electrical wiring of many production and operation units is old and outdated, with potential risks such as insulation degradation, frayed wires, and outdated circuit breakers that may cause a fire hazard.
Furthermore, the old wiring can also be a source of hidden strengths, such as the possibility of increasing the capacity of the wiring and outlets due to the technological advancements that have occurred since the wiring was installed. This could mean that the wiring can be used to support more modern appliances, providing additional benefits to the production and operation units.
Without professional electricians, it is difficult for the naked eye to discover the potential risks and hazards of electrical wiring. Traditional methods of detection are often inadequate and do not provide timely checks on a variety of potential dangers, making it difficult to properly monitor and provide early warning of electrical fires.
Without the right tools, people are unable to determine the safety of electrical wiring, which can lead to serious consequences if not addressed properly. Therefore, we must install smart breakers for remote and real-time monitoring to create an intelligent power distribution system. Listed below are some places where intelligent circuit breakers can be installed.
Shopping malls, supermarkets and other shopping places

Social welfare institutions such as nursing homes, orphanages, orphanages, etc.

Cultural activity centers such as libraries, museums, science and technology museums, cultural centers, etc.

Stations, rail transit and other transportation hubs

Flammable and explosive warehouses, wood processing, textile, spraying, pharmaceutical and other enterprises

Bars, Internet cafes and other entertainment venues

Kindergartens, elementary schools, universities and other school places

Carriers and tower base stations

Road lighting, park lighting, tunnel lighting

Metallurgy, chemical, textile and other industrial motors and power systems

Hospitals, banks, hotels and other crowded places
How to link the smart circuit breaker to the device for the remote control?
The smart breaker connects and transmits data through WiFi. Use the Tuya APP to set commands, upload data, view data, set parameters and other functions.
Is there any requirement for a wireless network?
The 2P input and output ports are connected to the L (live wire) and N (neutral wire). It must be installed with a good WiFi signal as close as possible to the router. It's better if there is no barrier between the router and smart breakers.
What's the difference between 1P and 2P?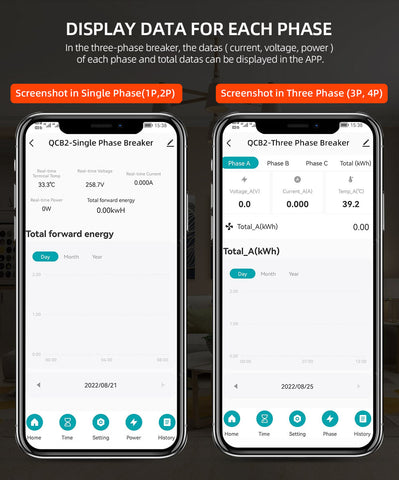 1P and 2P have the same function but different external dimensions and wiring methods. The 1P input port has two wires, one neutral and one live. There is an extra neutral wire and the output port only has a live wire. The 2P input and output ports are connected to the L (live wire) and N (neutral wire).
Can smart breakers be used as the main switch?
Yes, it is possible to use this smart breaker as the main switch. But for remote control, it needs to be used with WiFi, so make sure the WiFi cannot be disconnected. This smart breaker can serve as the main switch if you have a router connected to an uninterrupted power supply.
What kind of smart speaker can be paired with smart breakers?
The smart breaker can work with Amazon Alexa, Google Assistant, IFTTT, Google Nest, Yandex and Tmall Genie.