Smart Breaker: Best DIY Cases for Traditional Electrical Appliances
As the concept of the smart home becomes more and more popular, more and more people want to transform their homes into smart homes. But smart appliances are generally expensive, so how can you quickly experience the convenience of a smart home in a cost-effective way? So, the smart circuit breaker is a "conversion tool" for traditional appliances! Today we're talking about the DIY case for smart circuit breakers for creating smart scenarios that bring great convenience to life and productivity.
What is a Smart Breaker?
Smart breakers can be easily set up into the wiring of existing appliances in your home, and the circuit can be controlled by mobile phone app or voice, easily realizing the intelligent transformation of existing home equipment. The control panel is responsible for controlling the circuit and the networking module is responsible for intelligent networking.
After the device is connected to the cloud through the module, it can be connected to smart speakers such as Amazon Alexa and Google Home, through the cloud platform, as well as through the App to achieve cloud control of the device.
What is the Smart Breaker Market?
With the advantages of low cost and easy operation, smart breakers are favoured by developers and DIY users. They have become a best-selling product for smart home modification. For example, in lighting products, we can associate smart breakers with relevant circuits to turn traditional lighting products into smart ones in seconds. It features functions such as remote control of switching lights on and off, setting timer modes and scene linkage.
In addition to lighting products, intelligent circuit breakers are also widely used in air conditioners, heaters, water pumps, fans, washing machines, TVs and other product forms to meet the needs of various areas such as homes, offices, warehouses, outdoor and public buildings.
What are the DIY Cases You can Refer to?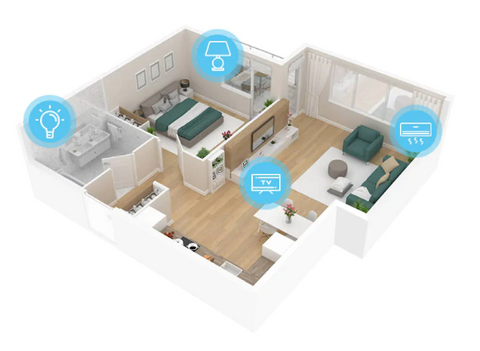 TUYA Smart has launched smart breaker solutions for the smart breaker sector, quickly creating products that users will love. The smart circuit breaker is available worldwide with TUYA's complete development ecosystem, a public version of the TUYA APP that is development free and a stable and reliable cloud service. The following are the specific scenarios in which smart breakers can be used in smart home technology.
1. Easy to Install
Smart breakers are suitable for the intelligent transformation and upgrade of ordinary distribution boxes. Its small size eliminates the need to replace the original appliances and other equipment in the home and add any other devices. It can make traditional appliances smart in seconds without changing the original home decoration style. The smart circuit breaker is easy to install based on the installation of ordinary circuit breakers with more gateway signal lines, which can be installed by DIYers.
2. Remote Control
After accessing the Tuya App, you can control your home electrical appliances connected to the smart breaker remotely via the mobile app, regardless of the distance, or whether you are on a trip. All Powered by Tuya-based smart devices can be controlled through one TUYA App and linked across brands and categories.
3. Voice Control
In addition, the smart breaker can also be connected to smart speakers for voice control. When you come home at night, you can simply say "I'm home", which will instantly trigger the home scene. The living room lights will come on and the curtains will slowly close, allowing you to enjoy a smart and comfortable home environment with voice commands.
4. Monitor Energy Consumption
Different electrical appliances consume different amounts of electricity. The traditional circuit breakers do not have the features to solve the proposed environmental protection and energy saving, safe use of electricity. Using smart breakers to monitor the electricity consumption of your appliances in real time, you can clearly see the daily and monthly electricity usage on the app.
You will understand the usage of each high-power consumption appliance and have a positive approach to energy management for your smart home system. Starting from intelligent power distribution, smart circuit breakers can make electricity use safe, energy-efficient and controllable. Real-time monitoring of back-end devices ensures safety and energy efficiency.
5. Intelligent Timing
The smart breaker has a wealth of timing functions to help you solve the small worries of life, such as intelligent timing, cyclic timing, random timing and intelligent countdown. You can use this feature to create smart scenarios for your appliances based on your own ideas.
Cyclic Timing
You can set a total period of time, within which you can set the time period to turn on and turn off, and then it will be cycled on and off at this time to help you free your hands. For example, you can set the time for the lights to switch on and off according to your own schedule, so you can enjoy a sensory-free lighting environment. This function can also be used in scenarios such as watering cycles and food drops.
Random Timer
You can set a total period of time during which you can turn the device on and off at random. When you are on holiday or away on business, you can control the lights in the room at random to simulate a situation where someone is at home to prevent burglars.
What are the Best Smart Breakers to Choose?
AT-ELE is a high-tech enterprise engaged in the production of smart home products, with its own independent design and development team. It has docked the TUYA smart breaker solution and created a series of market-competitive breaker products based on the TUYA IoT development platform.
Smart breakers are used in a variety of intelligent transformation scenarios such as homes, offices and factories, enabling rich scene linkage control through smart home devices. Smart circuit breakers can be used jointly with smart gateways to easily link devices such as air conditioning and smart door locks at home through the mobile phone APP. This enables intelligent control of equipment, energy control and intelligent switching of home scenes. Help to ensure users' safety with electricity while meeting their smart home needs. More solution to smart breaker with your home, get in touch with us for more ideas.