What are the Benefits of Installing a Smart Breaker?

A smart breaker is an ultimate way to control any outlet. A smart circuit breaker will be installed in the same spot as a regular breaker and will carry out all of the same functions. You can optimize the utility and efficiency of your home energy systems. Installing a smart circuit breaker in your house is essential for your safety. It can alert you if something goes wrong with your energy systems. Meanwhile, it can save time, use less energy, and require less maintenance. Equipped with energy metering, a smart breaker provides real-time data monitor and analysis. The energy consumption of the house can be automatically controlled at the breakpoint level.

What is a smart breaker?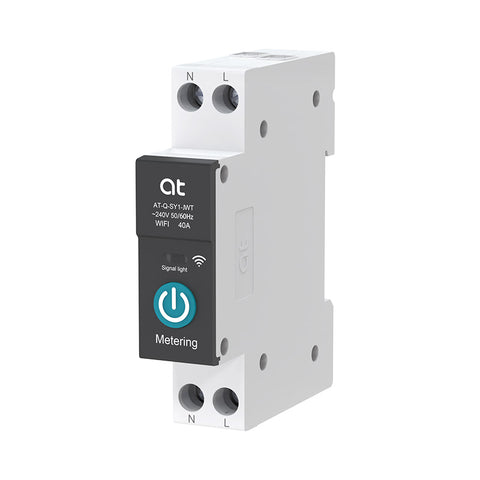 A smart breaker is effective at protecting our homes from power surges. It can be manually or automatically restarted to resume normal operation, unlike a standard fuse, which comprises basic strands of wire that block off the current by melting in the event of increasing power before being replaced. Smart circuit breakers guard against overload and short circuits on domestic circuits.
When a rapid electricity surge happens, they are made to cut off power to linked appliances. Additionally, these breakers have the capacity to link to smart homes and alter their electrical system protection in real-time. A smart circuit breaker differs from a regular one in that it has an internet application, allowing for controlling from anytime anywhere.
What are the benefits of a smart breaker?
Installing a smart circuit breaker has many advantages. It boosts battery storage capacity and assists in protecting against electrical damage. On their smartphones, users may use this to monitor power usage and set up alarms. Homeowners can use this technology to control their energy use, acquire electricity bills, and even receive phone notifications in case of an emergency. Homeowners may keep an eye on their energy use and prepare for peak times. Additionally, it prolongs mechanical life and prevents overheating and aging. This increases the lifespan and service life of the circuit breakers.
Keep Home Safety 
A smart breaker shuts off circuits more quickly than standard circuit breakers. It will assist increase energy efficiency in homes for health and safety. It also aids in lowering energy use, which reduces emissions of dangerous pollutants. Beyond the typical overcurrent protection, smart circuit breakers offer additional security. All of your appliances' performance can be tracked, allowing you to foresee when they might need to be replaced. You can check for circuit dangers with the aid of a smart circuit breaker, which will give you the necessary instruments. 
It's far too simple to forget things whether you're rushing to finish dinner or getting ready for work in the morning. However, there are situations when it can be more serious, such as mistakenly leaving the oven on after leaving the house for the day or leaving a curling iron on in the bathroom. Remote control smart circuit breakers can assist with this by providing you with the means to swiftly check on these risky circuits and remotely turn them off from anywhere without needing to rush home. You'll feel more at ease knowing that your home is safer even when you're at work or on vacation.
Overview Energy Systems
We only receive utility bills once a month and they provide only a limited amount of information. So how can we get a full view of the usage of electrical appliances? The best aspect of a smart breaker is probably insight. By giving helpful information for each circuit, recent advancements in smart breaker technology are also helping to increase breaker efficiency and help regulate power usage. When something in the house is not working properly, we often find out by a bill of utility. Keeping an eye on main appliances, such as water heaters and air conditioners, can give you an early warning if something is wrong. You can receive all the real-time data on your smartphone. So you are able to manage your electrical appliances to optimize the energy system.
Save Money
Saving money is one of the most crucial objectives for increasing your home's efficiency. Smart breakers have an important feature called energy management. The technical capabilities of smart circuit breakers allow homes and buildings to use electricity in a more efficient manner. Through convenient automatic scheduling of your home's circuits, a smart breaker would allow you to eliminate energy consumption and assist you in saving money. Smart breaker technology is also helping to improve breaker efficiency and control power consumption by providing useful circuit information. You can virtually monitor electrical appliances like laundry dryers and washing machines, allowing you to make the best use of the equipment. It's a practical feature for cost-cutting and home improvement so you may live more conveniently. 
Why AT-Q-SMR1 Smart Breaker is the Right Choice?
A smart breaker can provide load management that unlocks the total potential of energy systems. There is protection against rapid surges in the battery systems, and the homeowner can direct the power to any device as needed. With a smart breaker, the homeowner will also be able to manage their energy consumption, get ideas that which rooms and kitchen appliances are using energy, and how much the battery will last. 
By installing an AT-Q-SMR1 smart breaker, you can turn on and off household appliances using the TUYA APP.  For example, you can turn off the light on your smartphone, if you forget before leaving home. This device is compatible with Alexa, Google Home, and IFTTT. The smart breaker provides overload and short circuit protection as well as over and under voltage protection.
Also, it can offer a broad threshold value range to protect your household appliance. In order to know how much electricity you are using, you can gather statistics on your electricity usage in real-time. Besides, it has five protections such as over-voltage, under-voltage, over-current, short circuit and overload protection. Using PA flame-retardant material, smart breakers have moisture and temperature resistance. If you want to know more or have other questions, you could contact us for further discussion.