What is a waterproof junction box?
A junction box is an essential element in any industry, as they are specially designed to protect electrical box connections. They hide them to limit the most possible their access and also prevent any accident caused by external agents which could damage the systems permanently. For those who require these junction boxes, the at-ele.com models are perfect.

This kind of junction boxes are perfect for different types of locations and installations because their usability is amazing. To know them better and understand how they adapt to the industries, it is important that you know what their most outstanding characteristics are.

A waterproof junction box is an incredible tool that can be used inside and outside the house to prevent rain and dust, thus preventing the circuit inside the box from suffering irreparable damage due to water.
With waterproof grade, multiple materials, such as polycarbonate, fiberglass, among others. Typically used with Din rails, circuit breakers, heaters, and many other household appliances.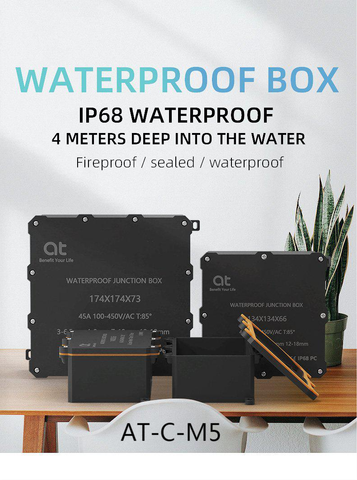 Junction Box Use Scenario and Types:
Rectangular electrical box: These are used with wall switches and duplex contacts. Single boxes can have tear-off sides that allow them to be attached to double-size boxes.
The 4 x 4 Junction Box: Square boxes are a good size for most electrical connections and installations. They are also known as square junction boxes. They are used to connect wires and join switches or contacts. When installing a switch or contact in the box it is used a cover adapter called an overcap.
Octagonal boxes: These Boxes include supports located between the rafters on the ceiling. The metal brackets expand to fit the distance between the joists and are nailed or screwed to the structure of the home.
Outdoor Junction box: These are sealed and have foam gaskets to protect switches and contacts from moisture. All metal parts are covered with layers of rust resistant paint. Compliant models include waterproof covers.
Plastic boxes: They are used only with non-metallic cable (NM). The box can include pre-installed nails to be nailed to the structure (beams or studs). Wall switches must have a ground screw if they are installed in this kind of box.
What is a Waterproof Junction Box Grade?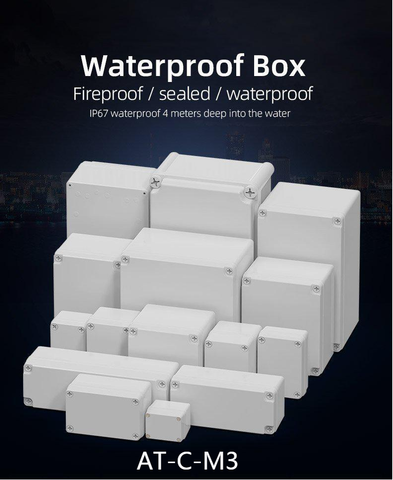 Once the environment and the conditions to which the equipment and components of the electrical installations will be exposed are evaluated, it is essential to select a box that meets all the protection requirements, although it does not directly impact the installation process, it does have to do with the life cycle of the boxes.
Acquiring equipment with degrees of protection suitable for the elements, which are waterproof, resistant to impacts, dust, corrosion and the influence of solar radiation, will guarantee the integrity of the connection box and its components when installed outdoors and in harsh environments, here is where the Waterproof Junction Box Grade comes in, as a solution to know the type of box you need to use.
Waterproof junction box: How to choose it according to the waterproof grade?
There are plastic electrical junction box and aluminum waterproof junction boxes,
The use of both are a little different as well as the performance. Let's analyze the differences in detail below.
IP63
Water or rain has no effect on the device from the 60 degree.
IP64
Liquid splashed from any direction has no effect on the device.
IP65
No harm in washing with water
IP66
Can be used in the cabin environment
IP67
Water immersion resistance for a short period of time
IP68
Long-term immersion in water under certain pressure, such as deep water cable wiring connection.
The waterproof Grade IP63 - IP68: How to choose the right one for the Waterproof Junction Box?
There are multiple types of waterproof junction boxes, the most common vary between plastic and aluminum. However, the performance of both may be a little different in each scenario. Let's analyze the differences in detail below.
The plastic waterproof electrical junction box is made of ABS, PCor any other material perfect for waterproof functions. The upper cover fastening screws are meticulously designed to prevent the loss of any important part or prevent the device from falling. Multiple internal installation points are convenient to facilitate the installation of rails, power modules, and expansion boards. Some models choose a PC transparent upper cover. Multiple sizes or specifications can be a really good solution for docks, sewage treatment plants, rail transit and many other important buildings or enterprises.
The use of spraying surface treatment technology makes the cast aluminum waterproof box have strong environmental adaptability. Due to the characteristics of the metal, and compared to other types of Waterproof Junction boxes, aluminum is perfect for dissipating heat, it has antistatic components as well as greater protection against flames. The working temperature of -40°- 120° is perfect for the equipment and it allows it to adapt to multiple temperature variations. Most of the waterproof junction boxes are equipped with metal hangers that allow quick and easy installation on the wall or location required for the equipment. The mounting boss is prefabricated, allowing it to have the maximum quality and safety. The internal mounting points are usually used for the grounding electrical equipment. 
Junction Box Accessories
Junction box accessories are the component and add-on parts used to create, modify, or enhance junction boxes used in circuit protection.
There are many different types of junction box accessories, some categories are:
Mounting accessories such as DIN rail accessories, mounting plates, brackets and screws.
Terminal accessories, such as terminal connections containing varying numbers of wires.
Safety accessories, such as products used for grounding cables and devices used to secure a lockable and keyed junction box.
Box panels, which make up the junction box construction.
Other electrical junction box accessories and parts: 
Connector strip
Cable gland
Cable entry
Terminal block
Mounting hardware 
Metal Box
Connectors
What services can we provide?
Laser LOGO and text printing
Personalized color printing
High Quality accessories matching and combination
Hole drilling service (Irregular holes)
Color customization
How to customize a waterproof junction box?
We are a professional waterproof box manufacturer, accept customers OEM custom, provide drilling, installation, painting, design, OEM/ODM services.