What is a ZigBee Smart Breaker?
For a long time, the potential of mass-market home automation has been acknowledged. Finally, we are seeing the start of that new age today, thanks to several operators, service providers, and smart home applications. Homeowners may turn their homes into cutting-edge machines that can be monitored and controlled from any place around the world via smartphones, tablets, or mobile devices by managing them through a set-top box or web gateway.
Smart Homes are a current trend. As the preferred wireless technology, ZigBee has grown in popularity. In reality, ZigBee is a low-power wireless technology that works together with WiFi to enhance the smarts, security, comfort and energy efficiency of our homes.
What's ZigBee?
ZigBee is a wireless technology created to support low-cost, low-power machine-to-machine (M2M) and internet of things (IoT) networks. With the IEEE 802.15.4 physical radio specification, ZigBee devices share a lot of the same networking, security, and interference avoidance technologies. It is designed to increase the interoperability efficiency of electrical devices.
ZigBee is intended to transfer small amounts of data over short distances with extremely minimal power consumption. ZigBee utilizes a mesh networking protocol, which means each node of the network is linked to another, as opposed to WiFi, which operates on a star network. Zigbee networks accept far lower data rates with a mesh networking protocol to eliminate hub devices and produce a self-healing architecture. Unlike Wi-Fi networks, they are used to link endpoints to high-speed networks.
With the aid of Zigbee, several smart home and home security appliances may interact among themselves. Although it appears complex, your home Wi-Fi system serves quite similarly. A hub is required to set up and manage a ZigBee network, much the same as a wireless router is required to form a Wi-Fi network. The system is organized by the hub, and each device serves as a node in a mesh network of other devices. Since ZigBee devices use a distinct wireless protocol, they won't overcrowd your Wi-Fi network. Additionally, possessing a ZigBee network provides you with more choices than Wi-Fi smart devices.
How does
ZigBee 

work?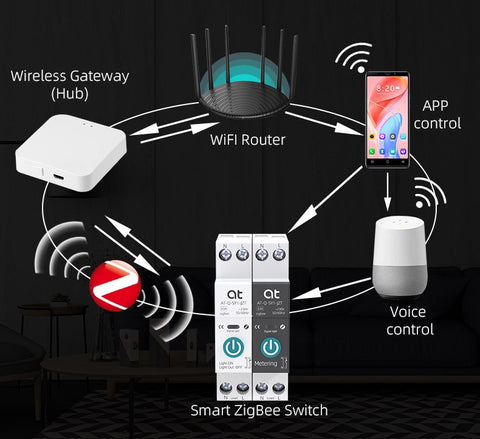 For example, ZigBee transmits commands directly between smart home devices, from a smart speaker to a bulb or a smart breaker to a heater, not through a central control hub first like a Wi-Fi network. The target device has the ability to send and understand this signal. No matter what kind of smart device they are, they can communicate with each other as long as they are all using Zigbee.
Since ZigBee functions as a mesh network, commands may be delivered across devices connected to the same Zigbee network. Ideally, each gadget functions as a node, sending and receiving data to other devices. This allows the smart home network to span a wide region and further the dissemination of instructions.
In general, mains-powered devices function as repeaters, disseminating any signals they receive from other network nodes. ZigBee devices that run on batteries often don't accomplish this. Instead, they just send and receive orders.
A ZigBee-enabled hub can help in this situation since it makes sure that the orders are related to all of the appropriate devices. It doesn't only rely on the ZigBee mesh network to transmit them. Some ZigBee products include a hub of their own. A third-party ZigBee-enabled hub may be used to link ZigBee-enabled smart home devices. It can be more cost-effective and guarantee that your house doesn't have more devices than necessary.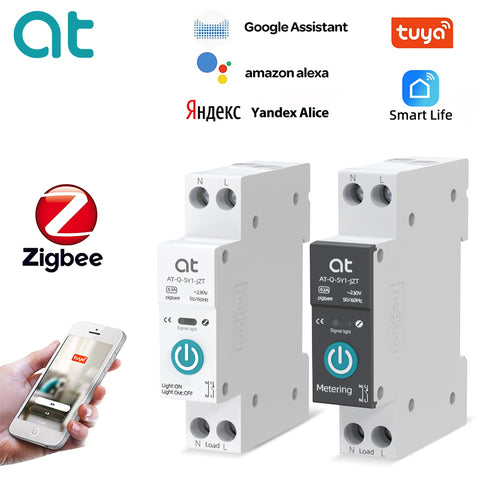 The Smart ZigBee Circuit Breaker offers a useful and convenient approach to entering home automation, in order to improve safety, security, and life quality. Through the Zigbee hub, the ZigBee breaker will be linked to a wifi router. With just one click on the app, you can get remote control and real-time monitoring from anywhere in the world after connecting this smart breaker to a household electrical circuit or adding it to compatible products like fans, ACs, pumps and heaters. It helps to achieve ease of power and road management. 
It is simple to install using the ZigBee hub without technical knowledge. There is no difficult setup by performing a straightforward operation on the original circuit. Additionally, its small size offers a lot of positioning freedom. The single Smart Life app makes it simplee to complete all the settings. It is possible to incorporate the ZigBee smart breaker with Google Home or Amazon Alexa. Simple voice commands enable you to lead a more comfortable and stylish lifestyle.
What are the benefits of the
ZigBee

smart breaker?

A ZigBee smart circuit breaker can now more intelligently manage a variety of home appliances. Each compatible ZigBee device becomes a type of outpost in the mesh that is created, able to connect with the next device. With a clear line of sight, it can communicate across a distance of up to 300 meters, which translates to a range of 75 to 100 meters indoors. You may use the smartest features of the breaker once you've paired it with your devices.

You can install it in the distribution box. The circuit for your home will then be able to be turned on or off from anywhere at any time. You can even create a timer or schedule to switch the circuit on or off automatically. Additionally, you may use it as a switch by connecting it to a variety of high-power appliances, such as refrigerators, air conditioners, and water heaters.
The ZigBee smart breaker can work with Google Home and Amazon Alexa for simple voice control, making your smart life much more convenient. With the free mobile phone APP, you can easily control your linked devices from anywhere. When you are away from home, it might be useful to manage your appliances. You may create a timetable to enable you to plan the specific time in advance for your gadgets to switch on or off automatically. For more convenience, you may also share control between your family and friends. One phone may control many breakers at once, or multiple breakers can be controlled by one phone at once.
To bring you the most convenient smart home and most recent features, AT-ELE uses Tuya Smart's platform for all of our ZigBee smart breakers. Instead of connecting each sub-device individually, you may connect several at once using Tuya. It is also possible to connect to sub-devices without a network connection.
Tuya Smart also makes use of the extremely secure ZigBee standard protocol. Working with the complete application platform from Tuya Smart makes it simple to connect all AT-ELE smart products, giving you a user-friendly smart home right now! Get all your questions answered with a free quote from a trusted AT-ELE manufacturer.