Why Switch to the AT-ELE Smart Breaker?- Better Manage Electrical Use
When circuit breakers took the place of fuses in home electrical panels in 1935, residential electrical contractors underwent a significant change. It transformed how residential electricity is managed. There have undoubtedly been improvements since then, but nothing as revolutionary as what happened almost a century ago. AT-ELE has recently developed a new energy management system that promises to improve smart breaker technology. People in the construction industry are learning how to use a smart breaker system to their advantage in various markets.
What's the Definition of Smart?
As IoT is incorporated into every nook and cranny of dwellings, the term "smart" is frequently used in modern development. The smart breaker can be managed and controlled with a single app thanks to integrated Wi-Fi or Ethernet hubs. This technology gives users the ability to control home appliances' activities from any location. This can be especially useful for homeowners, property managers, and residents who are away from home for extended periods of time. With just a smartphone or tablet, they may virtually stand in front of the electrical panel. Installing Smart Circuit Breakers is like adding a 'brain' to your house, making it smarter and more efficient.
What are the Key Benefits of Living in a Smart Home?
When considering a "smart home," it is more important to think about efficiency and safety than just convenience and cost savings. In fact, using specialized apps or intelligent platforms like Google Assistant, Amazon Alexa, IFTTT, and Home Assistant, home appliances and connected devices can operate remotely when you are away from the house in a connected home.
The smart home has many advantages, one of which is voice control. This means that you can use voice commands to control your home using smart speakers like Siri, Google, and Alexa. You can also use remote control. The smart home provides consumers with solutions that improve their well-being in terms of cost, comfort and safety.
Security and Dependability
Living in a smart home has several advantages, two of which are unquestionably security and dependability. Users may, in fact, watch over and monitor their smart home around the clock, anywhere. A more secure home results in more relaxed residents, due to the role that remote control plays in home security. 
Comfort and Convenience
One of the main benefits of a smart home is the increased comfort and convenience. By automating tasks according to a person's daily routine, smart homes make everyday life easier. Other benefits include the energy and money savings that users can expect from their regular domestic lives in a linked house. The smart home may fully optimize its use of power, gas, and energy by installing custom automation. In comparison to a conventional home, this allows a home automation dwelling to save roughly 30% on energy.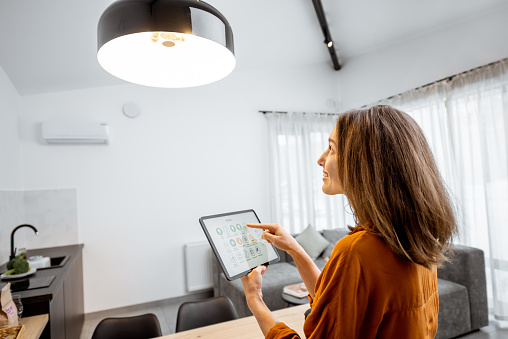 Quality of Life
One main advantage of living in a smart home is the exponential rise in quality of life. Smart home products help people relax by making it easier to do things that are usually considered boring or unpleasant. Another significant benefit of the smart home lifestyle is the remote control, voice control, and programmable automation. What's more, it's the user-friendliness that smart platforms' quick and simple graphical user interfaces bring. 
There are a number of simple tasks that can be easily avoided by using a voice or remote control command. For example, if you need to turn on a light, simply say the word into your voice control device. If you need to adjust the volume on your television, sound system, or other electronic devices, look for a remote control with a volume control feature. This way, you can avoid having to get up and down to make adjustments.
Real Estate Value 
The exponential rise in real estate value is another advantage of the smart home, this time one that is purely financial. The home automation system in this home provides access to a higher energy class than a typical system. The property increases in value and prestige over time, making a significant contribution to the advancement of environmental sustainability objectives.
What can an AT-ELE Smart Breaker Bring to You?
The "connected" home is often associated with ideas of comfort and energy conservation. The home automation system is designed to improve your daily life by making your well-being a priority. Therefore, the purpose and advantages of smart home technology do not end with the concept of convenience. The home has evolved into a personal ecosystem, especially in the wake of the pandemic. This has changed how people experience their homes. It's a place that perfectly captures the character of the individuals who inhabit it and engage with it on a daily basis.

AT-ELE is dedicated to promoting well-being and making smart homes accessible to everyone. We believe that happiness lies in our regular, domestic existence and that everyone deserves to have a home that meets their needs and enhances their quality of life. We are committed to providing products and services that make life easier, more comfortable, and more enjoyable for everyone.

To begin, AT-ELE has decided to offer a line of smart breakers to the market. These breakers can be used to make any old or existing home smart. The issue of having to select the type of home automation system will be solved by the smart breaker ecosystem. In actuality, AT-ELE smart breakers are WiFi-enabled DIN rail modules that are fully compatible with all conventional systems.
Making the decision to use home automation and smart homes is no longer seen as just rushing into the future. Users may now rely on and trust smart home devices as a true modern reality. Are you prepared to implement the new household electrical standard? Offering residential consumers the ability to manage your electricity consumption is our competitive edge. By offering this service, we are able to appeal to a wider range of consumers who are looking for ways to save money and be more energy efficient. The transition to more advanced electric systems will be flawlessly executed with the development of AT-ELE. To find out more, contact us right now.