Why Choose a Smart Circuit Breaker for Smart Home Upgrade?
In the era of 5G, everything seems to be connected to the internet. A convenient lifestyle with WiFi smart devices is the big trend. There are various kinds of devices in the market like smart switches, smart sockets and smart lights. How to enable home automation to make an electronic control of home activities and electrical appliances with one device. Here comes smart circuit breakers. They can help you control your home via smartphone, spend less on bills and make life easier.
What is a smart circuit breaker?
A smart circuit breaker is a type of electrical switch that can be controlled remotely. They are typically used in residential and commercial applications to provide circuit protection and energy management. Smart circuit breakers can be controlled manually or via an automated system, and they offer a number of benefits over traditional circuit breakers.
Some of the benefits of smart circuit breakers include the ability to remotely monitor and control power consumption, the ability to automatically shut off power during an outage, and the ability to provide data analytics that can help improve energy efficiency. Smart circuit breakers are becoming increasingly popular in both residential and commercial applications, and they are expected to continue to grow in popularity in the years to come.
How does a smart circuit breaker work? 
A circuit breaker is a piece of basic equipment at your house. The electrical energy flow is divided into a number of circuits. Each routine is protected using a breaker corresponding to the load of the appliance. High-power electrical appliances such as air conditioners need separate circuits to perform efficiently. If a circuit breaker detects a fault, it stops the flow of electricity immediately.
The circuit breakers prevent circuit problems and fires by preventing overloading. Surge protectors absorb electric power surges to earth before voltage spikes to the electrical appliances. 
A smart circuit breaker has the same functions as the regular one to protect your circuits, but it's equipped with a wireless power monitor or meter, providing real-time circuit status. The power management system helps to optimize the efficiency of the house's energy with WiFi connected to your smartphone. Also, smart breakers require professional guidance and installation.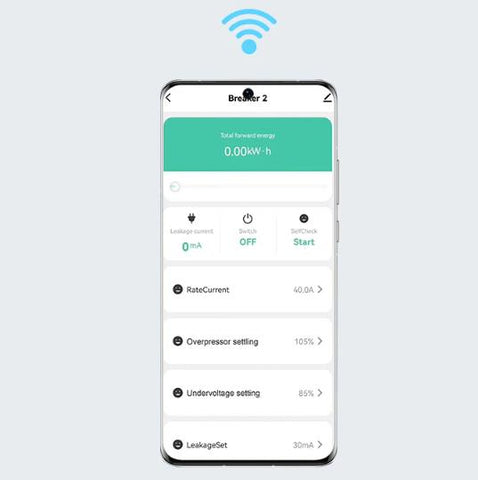 What can a smart circuit breaker do?
A circuit breaker is a device that is used to protect an electrical circuit from damage caused by overload or short circuit. When there is an overload, the circuit breaker will trip and cut off the flow of electricity to the circuit. This prevents the electrical wires from overheating and starting a fire.
A circuit breaker can also be used to reset a circuit after an overload has occurred. While circuit breakers are a vital part of any electrical system, they can also be equipped with features that make them even more effective at protecting your home or business.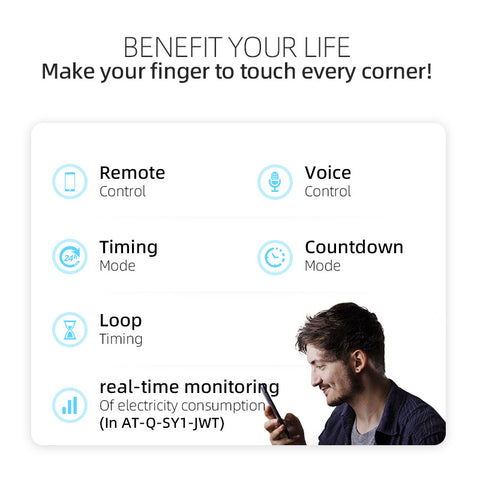 Remote control as you wish 
You could control the circuit breaker remotely as your wish with TUYA APP. It's possible to turn it on and off far away from home and at any time you'd like. There are also many timing functions to choose, just like timing mode/ countdown mode/ loop timing to control the load of electrical appliances.
What's more, you are able to share the device with multiple people to enjoy the lifestyle with your family. Otherwise, the smart breaker supports AI smart speakers, such as TMALL ELF, ALEXA, GOOGLE ASSISTANT, IFTTT and XIAODU. 
Monitor power consumption
The smart breaker with the meter can monitor and record real-time energy usage hourly, daily, and monthly. The collected data helps you to keep an eye on your utility expenses, allowing you to optimize the equipment's use. It's a useful function for money saving and home upgrading to have an eco-friendly life. 
Preset alerts for power/current/voltage
Set various values like the rated current value/ leakage protection trip value/over-voltage or under-voltage value/ temperature protection value. Once reaching the set values, alerts can be sent to your smartphone. Automatically turn off the connected electrical appliances to avoid troubleshooting issues.
More protections
Regular circuit breakers have short circuit protection, overload protection and leakage protection. Compared to it, smart circuit breakers have more protections. Take our AT-Q-SMR1 smart circuit breaker as an example, it's also available for over and under voltage protection, temperature over or under protection, and over-power or under-power protection. 
What are the benefits of a smart breaker?
People now are focusing on a smart and eco-friendly life. A smart breaker comes to be a perfect choice for home improvement. It helps to optimize your energy supply system and manage your home appliances, provide more protections for house power. Also it can monitor your electricity consumption to cut your bill.
Optimize energy supply
A smart circuit breaker provides optimized energy storage. Smart breakers gather long-term data used to identify potential energy effectiveness improvements. Boost energy efficiency and increase ROI in homes at the home with solar and storage systems. A smart breaker is a key to maximizing the energy efficiency of your system and boosting battery performance during blackouts.
Save money
Smart circuits are helpful for automating the schedule and management of your circuits. You are able to manage to use electrical appliances at the scheduled time and avoid grid power at peak times. Through time management of using electricity,  you could take full control to save money on your own bills. 
Maintain electrical appliances
Smart circuit breakers can collect information from electrical appliances on different circuits by detecting current load. This function provides relating to how equipment is running and where maintenance or upgrades are needed. If a refrigerator is continually overloaded, it may possibly indicate it needs to have maintenance.
Keep Safe
Unlike regular circuit breakers, smart breakers don't rely on mechanical components, so it's safer to use smart breakers than regular circuit breakers when it comes to protecting your electrical appliances. Considering that record real-time data, the reaction time period to system defaults is in time. If you forget to turn off the oven before leaving home, what should you do? A smart breaker will automatically switch off the circuits of it. In that case, you can keep your home safe even if you are not at your house. Also,  monitor the performance of your appliances for long service life.
How to choose a smart circuit breaker?
Smart homes have grown to be a staple in our day-to-day lives. As energy costs rise, more and more people are installing smart breaker systems at home. Smart breakers are designed to maximize energy source savings while ensuring a higher level of safety and protection. AT's series of smart circuit breakers are made to replace the regular circuit breakers easily in standard width.
Smart breakers help to lead your smart control and optimize your power use at your personal schedule. It's applicable to various scenarios like home power TRIP security, office power remote shutdown, smart management of factory electricity, alert for alarm for shopping mall electricity consumption and electric timing switch for breeding. 
The current electrical system options are more complicated and require up-to-date expertise. Wonder if upgrading to a smart circuit breaker is an intelligent choice, consult a professional for help. We can provide the most suitable smart circuit breakers, such as AT-Q-SY1, AT-Q-SMR1 and ATQCB1. To find out more regarding smart home solutions with AT's Smart Breakers, get in touch with us and contact us immediately!
Where to use a smart circuit breaker?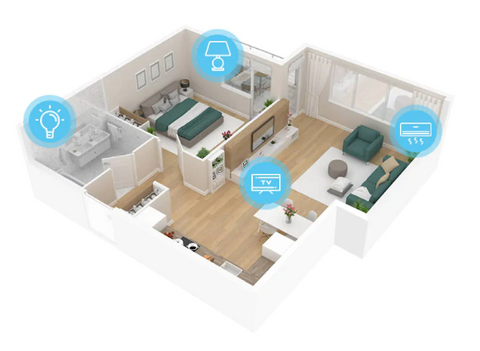 With the growing demand for smart home technology, smart breakers are keeping up. Smart circuit breakers are a key component in smart home systems. With AT's advanced technology, smart breakers bring intelligent energy management to your home. 
AT smart circuit breakers use PA flame-retardant material, it's temperature resistance and moisture resistance with passed strict tests. It can be used reliably in a harsh environment and match the application requirements on different types of occasions. 
Widespread in households, factories, student dormitories, farmland, municipal works and can simply apply with remote control to water pumps, heating equipments, fish ponds, agricultural electrical equipment, solar control systems, charging pile equipment, etc. AT-ELE is specialized with smart home upgrade. If you are interested in smart breakers, feel free to contact us.