WiFi Smart Breaker – Are They Worth The Investment?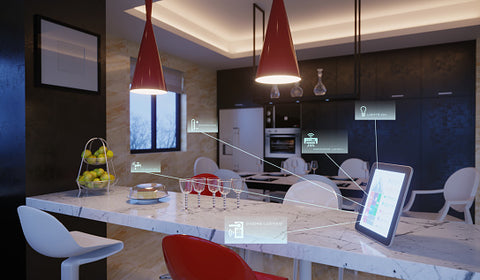 The smart breaker is one of your home's most crucial appliances. It maintains year-round electrical safety by managing your home's circuit. There are now smart breakers that can also be controlled via your phone in addition to the physical buttons that have traditionally been used to operate them.
These smart breakers enable remote control access to your home's appliances over WiFi, allowing you to operate them whenever and wherever you choose! You may be on vacation halfway around the world and have complete control over the settings for the gadgets in your house. When you need to turn on or off electrical equipment for whatever reason, this may be quite helpful. You may quickly update schedules on your phone with a few clicks to have your changes applied automatically on the day or time of your choice. Here is all you need to know if you're still debating whether upgrading to a smart breaker is worthwhile.
A smart breaker often referred to as a "wireless smart breaker," is a type of breaker that links a traditional circuit breaker to the internet and enables you to operate your home appliances with a smartphone. Your smart breaker receives an order from your phone, which is sent via WiFi, to make the necessary adjustments.
You can track past power consumption, make schedules, turn the smart breaker on and off, and do a lot more with the help of the mobile app. You'll need a reliable internet connection for this kind of smart breaker to work because it connects wirelessly.
What's the Difference Between Smart Breaker and Traditional Circuit Breaker?
A smart breaker and a traditional circuit breaker could appear quite similar at first. They both safeguard your home circuits and install them in the distribution box. There are some differences between these.
| | | |
| --- | --- | --- |
| Features | Smart breaker | Traditional circuit breaker |
| Wi-Fi connection | Yes | No |
| Control using app | Yes | No |
| Energy usage tracking | Yes | No |
| Short circuit protection | Yes | Yes |
| Overload protection | Yes | Yes |
| Over-voltage protection | Yes | Yes |
| High temperature protection | Yes | Yes |
Top 4 Reasons You Should Invest in a Wi-Fi Smart Breaker
There are several factors to consider when deciding whether to use a smart breaker. These gadgets provide a variety of advantages, like raising your home's energy efficiency and reducing your electricity costs. The ability to simply transform a standard appliance into a smart one and operate it from anywhere in the globe is probably the most appealing argument in favor of investing in a smart breaker. You may have complete control over the devices with only a few clicks on the mobile app.
Here are a few things to watch out for when buying your next Wi-Fi smart breaker.
1. Energy Savings
The smart breakers make it much simpler to monitor the energy use in your home. This offers you a better understanding of how you are handling the energy requirements of your house and enables you to make modifications to save on your energy expenditures even more. As a result, you use less energy and spend less on expenses.
2. Easy Scheduling
Smart breakers with WiFi capabilities frequently contain a basic scheduling feature that enables whole-home automation. A timetable based on your routine may be created. For instance, you may control the smart breaker to automatically turn on the air conditioner before you get home if you want a warm house when you get home from work. The best thing is that it just has to be done once and will repeat itself every day.
3. Remote Control
This function is great for conserving energy without sacrificing comfort. If you consistently forget to switch off your lights before leaving, it definitely comes in handy. You can turn them off even while you're not home, which will help you use less energy and save money.
4. Home Protection
A smart breaker is needed to prevent home damage from electrical fires. Similarly to this, if anything risky occurs at home, your smart breaker may send you a reminder so that you have time to act. When you are on vacation, you may simply travel without worrying about electrical catastrophes thanks to a smart breaker. Your phone can track them in real-time.
Factors to Consider Before Purchasing a Smart Breaker
Here are some things to consider when choosing a smart breaker for your home.
1. Wiring System
Usually, the installation of smart breakers is not much different from that of traditional circuit breakers. If you choose the rail-mounted style, then you can easily replace the old circuit breaker. The wiring method is also very easy. The firewire is connected to the fire port, and the neutral wire is connected to the neutral port.
2. Cost of smart breaker
You should expect to pay between $50 and $150 for a smart breaker. You will need to fork up an extra $100 to $200 if you choose the expert installation.
3. Home Automation
The majority of smart breakers work with Google Home and Alexa, among other smart home appliances. Make sure the smart breaker you purchase is compatible with your smart home system if you use one of them.
4. WiFi Strength
You need a good connection to utilize a wireless smart breaker since it connects to the internet. Stream a Netflix or YouTube video to gauge the speed of your WiFi. The signal strength is sufficient for a smart breaker to operate if there is no buffering.
The Bottom Line
As more and more people look for ways to optimize their energy usage and reduce their energy costs, smart breakers are growing in popularity. These cutting-edge smart breakers provide a variety of practical capabilities, including remote control through a smartphone app and home automation depending on customer preferences. 
After weighing your options, choose the smart breaker model that best suits your home's needs. For instance, choosing a WiFi smart breaker over a z-wave model would be the ideal choice if you're seeking a power tracking function or connectivity with other smart devices. The ideal smart breaker for your house will ultimately rely on your specific requirements and financial situation. Whatever your needs, purchasing a high-quality smart breaker such as AT-ELE Smart Breakers is a great way to gain control over your house and save your utility costs.