How to Install a Smart Breaker for Home Automation?
 
How to live more conveniently is always a topic for today's life at home. The home devices with wifi connected are more functional for building monitoring via smartphone. Smart breakers are an option for homeowners to collect information on circuits and electrical appliances and receive data through the internet. Here is something you need to consider before making a home improvement with a smart breaker. Hope  these tips can help you for home improvement.
What is a smart WiFi circuit breaker?
A smart breaker combines protection and utility into a single device with a wifi connection. Like a traditional circuit breaker, it distributes electricity to loads and protects equipment from overcurrent. In addition, a smart breaker can collect and monitor the electrical system data in connection with circuits and load equipment. It provides homeowners with real-time data and remote control of protective measures with an alert warning. It also allows you to remotely operate your appliances from the comfort of your smartphone or a voice assistant.
Why do you need to replace with a smart breaker?
Refer to the AT-Q-SMR1 smart breaker. It's easy to use after finishing the settings on TUYA APP.  It can remote control all the connected appliances at anytime from anywhere on TUYA APP through WiFi.  It helps to set schedules to turn on and off the devices according to your needs or different scenes. Also, it's compatible with Google Home Assistant, Amazon Alexa and IFTTT by using TUYA APP to control electric devices with your voice. With simple voice commands, you could live a more convenient and modern lifestyle.
Moreover, its compact size helps provide great flexibility in placement. The automatic reclosing function can be used for overload and short circuit protection, over-voltage and under-voltage protection and overcurrent protection. The AT-Q-SMR1 smart breaker provides comprehensive protection to household and commercial systems. It provides complementary protection against indirect and direct contact by the human body, and effectively protects electric equipment against insulating failure.
What are the applications of a Smart Breaker?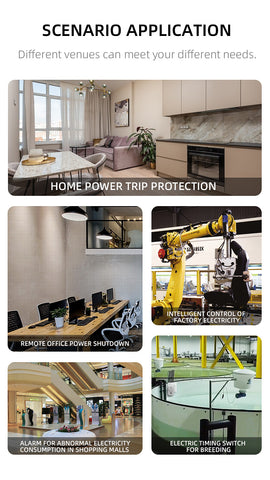 A Smart Breaker offers a practical and hands-free manner to step into home automation. It provides surge, short circuit, overload and overvoltage protection to improve safety and quality lifestyles. TUYA APP allows you to easily set all the settings. You could install the AT-Q-SMR1 smart breaker with flexible DIY integration.
Let a smart breaker be part of electric circuits and connect to electrical appliances like TV, lights, fans, water pumps, heaters, water geysers, air conditioners, refrigerators, washing machines, etc. You can use it not only at home for easy utilization and management, but also at offices, factories, shopping malls and so on.
When should you replace a smart breaker at home?
Whenever using electrical equipment, safety is essential. Circuit breaker boxes and panels are the main assemble of electricity, so you should take safety precautions at all times. In most cases, there is no need to replace the circuit breaker unless it's broken or not working properly. You'd better have a routine checkup for a period of time to protect the electricity system.
If the circuit breaker happens to hot touch, burning smell, burned material and broken wires, it's time to replace with a new one. There may be other situation in that your circuit breaker often trip and you don't know the reason. it is a good idea to install a smart breaker. It can last a long time and help to monitor the electrical circuits and find the problem easily. It's also helpful to reduce the risks of electrical problems and short circuits.
What tools should you prepare for installation?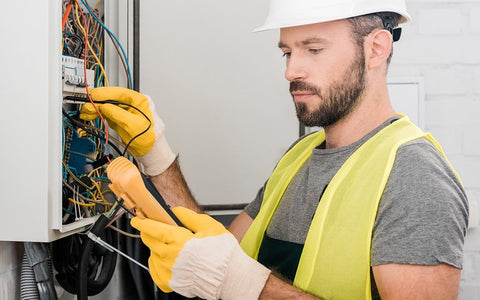 First, you should make sure to choose a brand new smart circuit that fits properly and work right. Before trying to install a smart breaker, you have to prepare with the right tools for the job. When working with electrical equipment and wires in your circuit breaker panel, the right tools enable you to install or replace circuit breakers.
What tools do you need to replace a smart breaker? You need a plywood or rubber mat to stand on safely, and wear a goggle and insulating gloves to protect yourself. A headlamp is also necessary for lighting in case of a poorly lit environment. You have to prepare a screwdriver, a hammer and an insulated wire stripper for wiring, and cable connectors for connecting the main panel.
After finishing wiring, you need a voltage tester to make sure the new circuit breaker is working properly. Believe that you can install a smart breaker successfully in the breaker box with the help of the right tools. If you need to purchase a new smart breaker or other electrical accessories,  you can visit our collections for a wide selection.
How to install a smart breaker?
It is the same as a  traditional circuit breaker (which can be seen in our home distribution board) except there is an input for remote control through WiFi in the smart circuit breaker. Take the AT-Q-SMR1 circuit breaker as an example. You could connect the wire from the upper of it, the live wire connects to the L pole, and the neutral wire connects to the N pole, then the LED indicator will flash red slowly.
After installation, simply download the TUYA APP from the application market. Turn on the phone's Bluetooth and wifi function. Then turn on TUYA APP, press and hold the distribution button to wait for 5-10 in about seconds, the indicator will flash quickly.
While waiting in the app interface, it will automatically pop up a matchable smart circuit breaker icon (or click after the "to add" button, it will automatically pop up to the next step). Click the circuit breaker graphic button, enter the wifi account name and password, then confirm to next step.
Wait for the network configuration to succeed, click it to finish, and the led indicator will be changed from red fast flashing to a blue steady light. After finishing all the steps, the device can be paired and set to operate automatically or schedule at a set time through a smartphone. It's time to start a smart lifestyle. Refer to the installation manual video for more clear instructions.
Here is notice that If you are not sure how to set up a smart breaker for your distribution board, you'd better ask a licensed electrician for help. Playing with electricity may cause serious damage and injuries. If you still have some questions about the smart breaker setup, feel free to contact us. We are appreciated to help you with our profession.
​