How Does A WiFi Circuit Breaker Work?
Electrical problems can result in hazardous and occasionally fatal circumstances. Especially mechanics circuit breakers, control the flow of power and are regarded as essential safety equipment. They nevertheless have a limited working life and are susceptible to vibration and movement due to their thermal-mechanical nature. Using smart breakers results in increased energy efficiency and security.
A smart wifi circuit breaker is a gadget that has the ability to manage control on and off triggers. When linked to a WiFi network, this is accomplished through ISC. A smart breaker switch serves the same purpose as a traditional breaker. Additionally, you can use smart breakers to monitor and manage short circuits, overload protection, under-voltage and over-voltage protection. Furthermore, it combines temperature over and under protection and adjusts each function's state properly, even reducing energy costs.
Thanks to this wifi breaker, the wiring in your house will become a smart automation system.  With voice recognition, Google Home and Amazon Alexa are also compatible with this wifi circuit breaker. You may also plan the on and off triggers using your smartphone.
For instance, your phone can be set up to automatically switch off any appliances you want to use throughout the day. Additionally, it will enable you to keep track of and log the electrical appliances on the lower level's energy usage.  Also, it will enable you to manage the load on the electrical appliances. They can all meet your home's energy needs to maximize your energy efficiency.
How does a WiFi Circuit Breaker Work?
As well as distributing power to loads, traditional circuit breakers protect equipment against overcurrents. Typically, they interrupt power when electrical wiring is carrying too much current, safeguarding equipment and avoiding fire. The basic circuit breaker responds to the magnetic force of the increasing current by engaging a lever to break the circuit. The circuit can be manually turned back on once the load issue has been solved.
An electronic component replaces a mechanical one in a smart circuit breaker, which performs the same function. A new category of a secondary system called the "smart circuit breaker" was created by microelectronics, computer technologies, and new sensors. It gathers and monitors data from the circuit and load equipment.
Remotely monitoring and adjusting load requirements, temperature settings, and other vital system data is possible with smart circuit breakers. In contrast to conventional circuit breakers, smart breakers offer building managers real-time data and remote control of safety measures. 
The new sensor works together with the digital control device to gather operational data on its own. In this way, it can check the defects and send an alarm before there are problems, helping to prevent accidents. The intelligent circuit breaker converts mechanical energy storage into capacitive energy storage and automatic transmission into a frequency converter. It's directly controlled by the motor breaker to increase the mechanical system's reliability.
What are the Applications of a Smart Breaker?
Due to their convenient remote control of the electrical system, WiFi circuit breakers are widely utilized in industrial production and daily life. You may easily control them if you successfully connect them via Wi-Fi to your smartphone. Smart circuit breakers are simpler to operate anytime, anywhere.
Plus, they work with more recent technology like Alexa, Google Home, and Google Nest. This means that using the above devices, you can also use speech automation to control the smart breakers. You can also plan on and off using a smart breaker via your smartphone or the internet.
The smart breakers can also be used to protect against surges, short circuits, overloads, and overvoltages. The wifi circuit breaker switch allows for real-time remote monitoring of the circuit. Smart circuit breakers are able to protect and manage various appliances even when they are placed far from remote devices.
When connected to WiFi, the smart circuit breakers may turn the ISC on and off. It will also work if you are connected to the internet. In addition to monitoring current loads, smart circuit breakers can record data from every circuit. This skill offers insight into how equipment is operating and where maintenance or improvements may be required.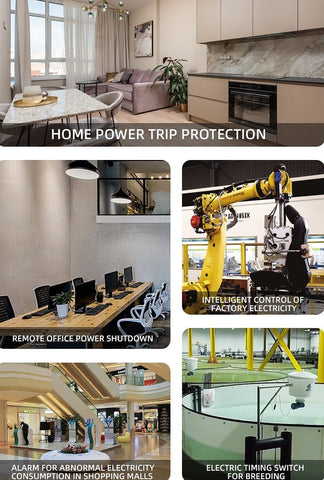 With the help of automation, a smart breaker switch can convert standard domestic wiring into energy systems. You can turn on and off fans, lights, water pumps, washing machines, and many other devices. Therefore, you can also ask for assistance from the scheduled time operation.
The WiFi circuit breakers can be used to remotely operate and protect different kinds of electrical appliances, such as pumps, motors, electric heaters, air conditioners, washing machines, TVs, fans, lamps, refrigerators, etc. Smart circuit breakers can also be installed outside. It assists with time regulation and equipment supervision outside. This comprises a wide range of items, such as solar control systems, agricultural machinery, and electrical equipment.
A smart circuit breaker can be installed in the same way as a standard circuit breaker. The only difference between a smart breaker and a standard one is that the smart breaker has an antenna for remote control through Wi-Fi. Download the iOS or Android app after installation. You can set the automatic or planned time of operation after installing the app and pairing the device with your smartphone. Dealing with electricity is risky and can lead to serious harm. If you are unaware of how to install an MCB into an existing electric panel, get in touch with a certified electrician immediately.
Conclusion
A smart breaker switch is similar to a standard circuit breaker but has additional benefits and should be used in homes and other places. The wifi circuit breaker may automate every aspect of your home. It also includes the capability to monitor undervoltage and overvoltage and set a schedule to control on and off remotely.
Additionally, if you integrate Google and Amazon, your house will run entirely on automatic. Please contact us for even more details. AT-ELE produce a variety of products, including remote control switches, leakage circuit breakers, and WIFI circuit breakers. Help you with energy management of your entire house.
Contact:
sale@at-ele.com
www.at-ele.com